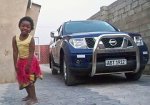 My new project is a blue Nissan Navara truck.
Since TCP won't ship liquids 2 me, I just ordered 2oz Sapphire House of Kolor Kameleon pearls . Two weeks ago I brought Jon Kosmoski's Advanced Painting book. I got some insightful hints on this product on page 113 to 115 of the book.
Since I only have the powder from House of Kolor and not their clear or base coats, I'm not so sure how it will react with the material supplied locally.
I was therefore thinking of doing it this way, (1) prime it. (2) Apply metallic Black base (3) Clear it (4) wait 2 days to cure (5) wet sand it with 800 (6) apply pearl in clear (7) wait 2 days to cure (8) Wet sand it with 800 (9) apply 3 coats of clear (10) wait sand it (11) apply 2 flow coats (12) wet sand with 1,200 1,500, 2,000 and polish.
Jon seemed to have gone straight base, pearl, and immediately top coated it with clear.
Can one wet sand a pearl coat as indicated in step 8?
Regards,
Victor