Hello,
My name is waid and I am a new member here.
I am looking to paint my old Falcon in my Garage. Most of the HVLP paint guns seems to require about 13 CFM @ 23 PSI inlet. I was thinking about buying entry level 60 gallon compressor like the one they are at Menards but its rated 3.7hp with 13.4 CFM @ 40 PSI. My old 6.5hp DeVilbiss twin pump Air Compressor is rated at 13 CFM @ 40 PSI but its only 20 gallons.
I just need to paint this one car.
Is my old DeVilbiss adequate for HVLP paint gun?
I don't have any paint gun yet. Not sure how accurate it is but I did a quick test. I set the regular at 30 psi and used a blow gun continuously. The tank pressure never dropped below 120 psi and the compressor cycled but did not ran continuously.
What do you think ?
Waid
Thanks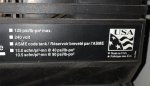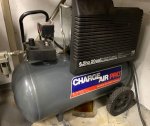 Last edited: