Good morning painters!!!!
SO I hope this topic is not considered "taboo" in the painting world. Almost seems too easy to consider doing. WHICH IS WHY I HAD TO TRY IT.
So you probably are all aware of a product called "plasti dip". My son did his Audi A4 wheels back a couple summers ago and I was pretty impressed. And well just because he left me with 2 cans, I thought....HELL, WHY NOT GIVE THIS STUFF A TRY..
So here's before and after on my street glide front wheel. I'll talk about the process after the pics here...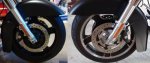 So, about the process.....man it really couldn't be any easier....wash/de-grease and dry thoroughly, that was it. Multiple light coats to get full coverage. Dried with hair drier in-between coats. Where as I am going with a sinister/blacked out look, this really was a simple thing to try. And of course, the good news is "pull off the rubberized coating" later if I don't like it.
let me know your experiences and thoughts on this if you care to. Next will be the chrome forks and highway bar. We'll see where this ends up. Snowing here in Mass. on the first day of spring. So....plenty of garage time left for little projects like this.
g