Here is a great tip for all you newbies (and veterans) on how to prep a new tack rag.
You should never use a tack rag straight out of the wrapper.
In the below pics, you can see that once you take it out of the wrapper, completely open it up. Then you will need to fold it back up nice a loosely packed tack rag back to about the same size as when you took it out of the wrapper.
Brand new tack rag in the wrapper
Once you remove the tack rag, it will look like this. You will note, that this is VERY sticky.
Do not use it like this!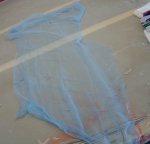 ​
Completely unfold the tack rag
Fold it back up fairly so it's fairly loose. Fold it so it was about the same size as when you opened it.
This should fit right in your hand.
To store it you can use either a baby jar or a bag.
You will find that this not only will pick up particles better, but it will also help prevent leaving sticky streaks over your paint. Sometimes the streaks will cause problems when applying your sealer or basecoat, or even clearcoat.
Enjoy
:bigokay:
Like this tip?Be sure and click on the "thanks" icon at the bottom of this post! (Thanks!)

Feel free to reply or add to the thread as well!
​