Hi Guys,
I am fairly new to spray painting and i have come across an issue that i am unfamiliar with. Me and a mate were painting his car to repair a big section of his bonnet that was scratched (the scratches went all they way back to the bare metal) so around the repair we took the surface back to bare metal then filled the scratches and sanded, then put a layer of spray putty over the area then sanded then etch primed before using a final primer surfacer then gave that a wet sand with 800g. We scuffed the remainder of the bonnet and then put down three coats of basecoat, this all went fine however when it come to the clear things seem to have gone horribly wrong.
We put down 4 coats of clear, waiting the time that was on the can (10 minutes) for flash off between each coat. However in the finished job there are defects i have not seen before. See picture attached.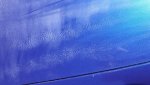 I have tried to wet sand and buff out this defect with no luck. So at this point i am thinking i could be something to do with the two clear coat systems reacting badly with each other but i really have no clue.
I should mention the defect is only noticeable on the area of the bonnet that was not taken back to bare metal.
Info about the job
We used Acrylic paints for this job.
Air Compressor is a Lincoln 2.5hp with 380L/min free air delivery
Spray Gun is a KC tools Gun, 2.0mm tip was used (GUn consumes 285L/min @35psi)
Air Line Setup: There is a water trap on the compressor before the outlet, then on the other end of the hose i have a water trap followed by a pressure regulator and then the gun.
Temp on the day was around 26 degrees Celsius
My thoughts are to now remove the bonnet from the car, strip all the paint off the bonnet and start from bare metal.
Any thoughts?