So I received a truck from grandfather who is not doing to well. Its a 1997 chevy reg cab 8ft box with a 350 vortec with every option available. My grandfather bought this truck new in 1997 on custom order so i am the second owner.... On receiving this truck i had an old garage i sued as a shed and for the past few months i have tore down old building poored new concrete walls and ran 60 amp power to this shop it is pretty sweet. I have the entire truck stripped including frame (my new shop looked like a rust factory for the past 10 days) but all is ready to start painting... Now i was stuck on orange frame orange rims and bright black paint with orange pearls but ive completely gone away from that and since my epoxy primer showed up from eastwood today i have made my decision but have ZERO idea how to do what im attempting to do.
I am looking for a matte black with an electric blue flake in the clear not in the paint that only shows up in the sunlight and such and i will post a pic of what i am looking for.
I DO NOT want to just dip this i want a proper paint job, with the results below and if you know of where i can purchase the paint and clears and pearls whatever needed please let me know... This project means alot to me as I'd like to bring my grandpa for a ride in his old truck (rebuilt) before that is no longer an option.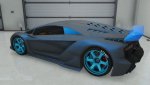 Dont mind the spoiler or rim color just looking for that effect of blue over the matte black on the sides.
Thank you.